About Us
Sompting Spice (New) is a Indian takeaway in Sompting. Why don't you try our Set Meal For 2 or Malaya?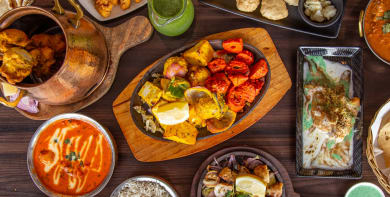 Reviews
101 reviews
Kendall
"Delicious food and great selection for vegetarians. Went for the meal deal option, was excellent value for money. Will definitely be having again!"
05/07/2020
Jess
"Honestly the best curry I've had delivered in a very long time! Great quality, great taste. Will order again!"
03/07/2020
David
"All round excellent food & service"
25/06/2020
Charmaine
"Had a very big order and all the food was lovely and hot on arrival, great flavour, nice portion sizes will definitely order from them again. Thank you"
21/06/2020
Menu
Shashlik Jalfrezi Chicken
£9.50
Jahangiri Special
Chicken tikka, lamb tikka and seekh kebbab cooked with green pepper in rich thick sauce
£9.50
Masriki Chicken
Chicken tikka bhuna topped with spinach
£9.50
Makhoni Chicken
Mild. Cooked with fresh cream, coconut ,hese dishes are sweet, creamy and delicious
£9.50
Makhoni Lamb
Mild. Cooked with fresh cream, coconut ,hese dishes are sweet, creamy and delicious
£9.50
Lamb Badami
Mild cooked with nuts
£8.50
Lamb Manchuri
Crispy coated lamb then cooked in sweet chilli sauce
£8.50
Lamb Le-Jobab
Barbecued tender lamb with blended different herbs and spices cooked in sweet chilli sauce
£8.50
Mango Chicken Tikka Korma
Mild cooked with mango pulp
£8.50
Mango Chicken Tikka Masala
Mild cooked with mango pulp
£8.50
Chicken Cheese Rosa
Barbecued sliced chicken cooked with garlic tomato onion and mixed up with melted cheese
£8.50
Chicken Manchuri
Crispy coated chicken then cooked in sweet chilli sauce
£8.50
Chicken Le-Jobab
Barbecued sliced chicken with blended different herbs and spices cooked in sweet chilli sauce
£8.50
Chicken Badami
Mild cooked with nuts
£8.50
Tandoori Bahar
Barbecued sliced chicken cooked with garlic tomato onion & capsicum in a medium sauce
£8.50
Fish Shatkora
Medium spiced, cooked with fresh Bangladeshi lime (citrus)
£9.50
Chicken Naga
Thick sauce cooked with hot chilli sauce
£8.50
Lamb Naga
Thick sauce cooked with hot chilli sauce
£8.50
Saag Aloo
Spinach & potato
£2.95
Saag Paneer
Spinach & cheese
£2.95
Mixed Vegetable Bhaji
Dry
£2.95
Muttar Paneer
Peas & cheese
£2.95
Bhindi Bhaji
Lady fingers
£2.95
Aloo Gobi
Potato & cauliflower
£2.95
Shashlik Main Chicken
With naan bread
£8.90
Shashlik Main Lamb
With naan bread
£8.90
Tandoori Mixed Grill
With naan bread
£9.50
Tikka Main Chicken
Off the bone
£5.90
Tikka Main Lamb
Off the bone
£5.90
Half Tandoori Chicken Main
On the bone
£6.50
Garlic Mushroom Chicken Tikka
£6.50
Mushroom Omelette & Chips
£5.50
Onion Bhaji (4 Pieces)
Served with mint sauce
£3.00
Samosa Starter (2 Pieces) Meat
£3.50
Samosa Starter (2 Pieces) Vegetable
£3.50
Tandoori Chicken Starter
On the bone
£3.50
King Prawn Butterfly Starter
£3.95
Mixed Starter
Chicken tikka, lamb tikka, seekh kebab, onion bhaji & vegetable samosa
£5.50
Balti Special Offer Meal
Chicken tikka balti, lamb balti, Bombay potato, pilau rice, naan bread, 2 poppadoms, onion salad, mint sauce
£20.00
Belly Buster Meal
Chicken tikka masala, chicken rogan, saag aloo, 4 pieces onion bhaji, 2x pilau rice, naan bread, 2 poppadoms, onion salad, mint sauce and 2x can of soft drink
£22.00
Vegetable Meal For 1
Poppadom, naan bread, pilau rice, bombay aloo, 2 pieces of onion bhaji, mixed vegetable balti, onion salad and mint sauce
£11.00
Set Meal For 1
Chicken tikka starter, chicken korma, pilau rice, naan bread, poppadom, onion salad and mint sauce
£11.50
Set Meal For 2
Chicken korma, lamb bhuna, pilau rice, Bombay aloo, naan bread, 4 pieces onion bhaji, 2 poppadoms, onion salad & mint sauce
£20.00
Sompting Special Meal Deal
Your own creations
Choose any 2 main meal, any 2 side dish, any 2 rice, any 1 naan bread, 2 poppadoms & mint sauce salad
(Except mixed starter and king prawn)
£24.00
Malabar Chicken
Medium
Pistachio, almond and cashew nut in mild spice
£9.50
Malabar Lamb
Medium
Pistachio, almond and cashew nut in mild spice
£9.50
Dhabe Da Keema
Medium
Mutton mince cooked in a spicy masala and served with sweetcorn and green peas
£9.50
Shashlik Nawabi Chicken
Marinated chicken, capsicum, onion and tomatoes, grilled in the tandoor, then cooked with thick gravy sauce and fried onion rings on top coriander
£9.50
Shashlik Nawabi Lamb
Marinated chicken, capsicum, onion and tomatoes, grilled in the tandoor, then cooked with thick gravy sauce and fried onion rings on top coriander
£9.50
Roshun Mirch Chicken
Medium
Marinated & barbecued in oven then cooked in medium sauce, with green chilli & big pieces of fried garlic
£9.50
Roshun Mirch Lamb
Medium
Marinated & barbecued in oven then cooked in medium sauce, with green chilli & big pieces of fried garlic
£9.50
Bahari Chicken
Fairly hot
A recipe from Bhar near Calcutta. Tender chicken or lamb roasted with garlic, ground sesameseeds, tomatoes, onion, capsicums cooked with chefs special spices
£9.50
Bahari Lamb
Fairly hot
A recipe from Bhar near Calcutta. Tender chicken or lamb roasted with garlic, ground sesameseeds, tomatoes, onion, capsicums cooked with chefs special spices
£9.50
Zafrani Chicken
Medium
Cooked with grind pistachio nut, butter, in mild thick sauce
£9.50
Zafrani Lamb
Medium
Cooked with grind pistachio nut, butter, in mild thick sauce
£9.50
Tamarind Chicken
Medium
Special grilled chicken or lamb cooked in a sweet and sour flavour tamarind sauce
£9.50
Tamarind Lamb
Medium
Special grilled chicken or lamb cooked in a sweet and sour flavour tamarind sauce
£9.50
Shatkora Chicken
Cooked with fresh Bangladeshi lime (citrus) and herbs and spices
£9.50
Shatkora Lamb
Cooked with fresh Bangladeshi lime (citrus) and herbs and spices
£9.50
Garlic Chicken
Cooked with garlic & chef's special sauce
Fairly hot
£8.50
Garlic Lamb
Cooked with garlic & chef's special sauce
Fairly hot
£8.50
Chicken Tikka Bengal
Little hot with mince meat and boiled egg
£8.50
Chicken Tikka Bombay
Tender pieces of chicken cooked with boiled eggs & potatoes in a fairly hot sauce
£8.50
Chicken Chilli Masala
Hot, chicken blended with garlic & special masala sauce with green chillies
£8.50
Akbari Chicken
Marinated chicken cooked in a clay oven, cooked with garlic, coconut & almond powder in a medium curry sauce
£8.50
Ameer Murog
Mild chicken cooked with pulp mango, mild spices, cream & coconut
£8.50
Butter Chicken
Very mild & creamy with butter
£8.50
Nawabi Chicken
Sweet cooked with garlic almond powder & cream
£8.50
Nawabi King Prawn
Sweet cooked with garlic almond powder & cream
£10.50
Nawabi Lamb
Sweet cooked with garlic almond powder & cream
£8.50
Nepali Chicken
Spiced medium with ginger & special herbs
£8.50
Nepali Lamb
Spiced medium with ginger & special herbs
£8.50
North Bengal Garlic Chilli Chicken
Chicken tikka cooked with green chillies & sauteed with garlic & coriander
£8.50
Karahi Chicken
Grilled in a tandoori oven cooked with tomatoes, onion, capsicum & coriander, medium spiced
£8.50
Karahi Lamb
Grilled in a tandoori oven cooked with tomatoes, onion, capsicum & coriander, medium spiced
£8.50
Karahi King Prawn
Tender king prawns in a tandoori oven cooked with garlic, ginger, tomatoes, onion, capsicum & coriander, medium spiced
£10.50
Katmandu Delicacy Lamb Tikka
Medium to hot, marinated diced lamb grilled in charcoal oven, cooked with garlic, ginger & dressed with chillies
£8.50
Tikka Mirchi Masala Chicken
Cooked with chef's special red chilli sauce topped with garnished garlic & green chilli
£8.50
Tikka Mirchi Masala Lamb
Cooked with chef's special red chilli sauce topped with garnished garlic & green chilli
£8.50
Sharisha Chicken
Marinated chicken cooked with spring onion, capsicum, in a specially prepared mustard sauce
£8.50
Sharisha Lamb
Marinated chicken cooked with spring onion, capsicum, in a specially prepared mustard sauce
£8.50
Shahi Chicken
Cooked with a special blend of spices mixed with onion, green peppers & a garlic tomato sauce
£8.50
Shahi Lamb
Cooked with a special blend of spices mixed with onion, green peppers & a garlic tomato sauce
£8.50
Rezala Chicken
A madras, hot & spicy with herbs, green pepper, coriander, tomato, onion & yoghurt
£8.50
Rezala Lamb
A madras, hot & spicy with herbs, green pepper, coriander, tomato, onion & yoghurt
£8.50
Boiled Rice
Plain Basmati Rice
£2.20
House Special Rice
Prawn, egg & peas
Large container
£4.50
Special Chicken Rice
Large
£5.00
Sompting Special Biryani
Cooked with lamb, chicken & prawn, choice of mild, medium or very hot
£8.90
Contact Us
Find Us
1 The Parade, Cokeham Road, Sompting, BN150AH
We deliver to
BN11, BN14, BN15